Catching Fire is an upcoming 2013 science fiction action film based on the novel of the same name by Suzanne Collins. It will star Josh Hutcherson as Peeta Mellark, Jennifer Lawrence as Katniss Everdeen, and Liam Hemsworth as Gale Hawthorne.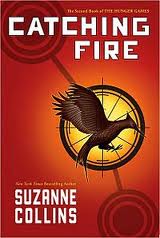 Production
Edit
Filming will start in the summer of 2012. Gary Ross may not be directing the film due to a busy schedule, so Francis Lawrence was selected to direct. All actors have signed on to return with new actors Phillip Seymour Hoffman who has been confirmed the role of Plutarch Heavensbee, the head game-maker of the 75th Hunger Games.
When Katniss Everdeen, a 17-year-old Victor of the previous Hunger Games and Peeta Mellark return to District 12 they realise that something is not right. After their victory tour to the other districts and the shocking happenings at District 11 they return back home, only to find out that they will both be reaped into the "75Th Annual Hunger Games" known as the 3rd quarter quell alongside the other Victors in an exciting twist. There can only be one victor this time though... Or can there?
"Tick Tock"
Ad blocker interference detected!
Wikia is a free-to-use site that makes money from advertising. We have a modified experience for viewers using ad blockers

Wikia is not accessible if you've made further modifications. Remove the custom ad blocker rule(s) and the page will load as expected.