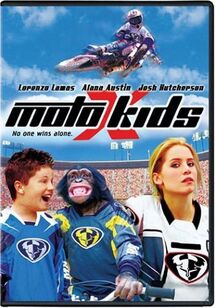 Motocross Kids a.k.a. Moto X Kids is a 2004 film directed by Richard Gabai, distributed by Tag Entertainment.
Josh Hutcherson as TJ
Bobby Preston as Skeeter
Lorenzo Lamas as Evan Reed
Phyllis Diller as Lou
Alexa Nikolas as Katie
Gary Busey as Viper
Evan Marriott as Mongo
Cody the Chimp as Himself
Ad blocker interference detected!
Wikia is a free-to-use site that makes money from advertising. We have a modified experience for viewers using ad blockers

Wikia is not accessible if you've made further modifications. Remove the custom ad blocker rule(s) and the page will load as expected.